Our Products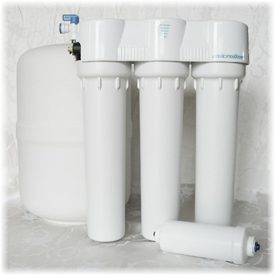 Product Information
Microline Reverse Osmosis System
Microline Reverse Osmosis System
Some of the benefits of Reverse Osmosis:
Delicious, sparkling-clear drinking water.
Pristine, flavorful coffee, tea and juice.
Clean rinsed, fresh fruits and vegetables.
Crystalline, harder and clearer ice cubes.
Better tasting soups, sauces and meals when prepared with RO water.
Cost effective. The daily cost of bottled water will no longer be a concern.
Convenient. Fresh, clean water, ready at your tap.
With the unique features of a Microline RO System, the quality is evident in the finest of details, the smallest of parts, and naturally…in the water.
The Microline RO System contains the patented manifold plate which directs the flow of water through each of the filtrations steps. The manifold design simplifies as it enhances the system by eliminating the need for individual connections between filtration stages.
The system is designed to produce worry-free water with less waste. When the holding tank is full, the automatic shut-off device is triggered and signals the system to automatically cease production until more water is needed. The technologies have been the secret to the success of the Microline RO System. With 50 years of water treatment experience behind the Microline name, there is a long-standing tradition of excellence and quality. Water Treatment Specialist group carries other brands of Reverse Osmosis depending on your drinking water needs.
For Better Water, Contact Us Today!
---